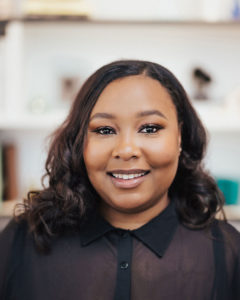 JUNIOR DESIGNER, ASSOC. NOMA | IES
Danielle joined CM KLING + ASSOCIATES in February 2021. Danielle is a Caribbean- American (Trinidad & St.Vincent) Brooklyn native. She is an architectural designer with an interest in urban design, and urban policies for social justice. Danielle started her career in architecture and is now exploring the world of architectural lighting. She has always had an interest in design, and when her mentor pointed her in the direction of interior design, she gladly walked towards it.
Designing for social change is extremely important to Danielle which is why she choose Temple University for her Master of Architecture. She used the landscape of North Philadelphia and knowledge of her hometown to educate and inform others of the dangers of gentrification.
Starting in Architecture, Danielle quickly gained interest in lighting, and began her lighting journey with HDLC in NYC. Working on projects ranging from residential, commercial, hospitality, and corporate offices.
Education
Bachelors of Science, Architecture. The Andrews University, Berrien Springs, MI.
Masters of Architecture. The Temple University, Philidelphia, PA.
Professional Affiliates
Associate NOMA. IES